Yokkao SICK 12oz boxing glove Review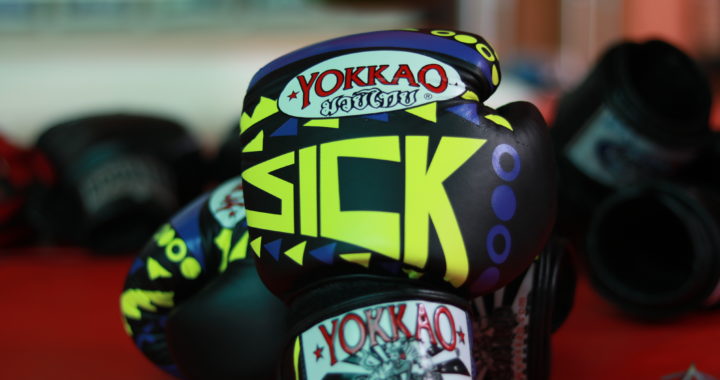 Yokkao "SICK" collection, violet/yellow Muay Thai Boxing gloves
Brand New 2017 collection release
Gorgeous Geometric design
Handcrafted by Thai professionals in Thailand
Long lasting neon colors
Protective dense foam
Attached thumb for added support
Double stitched seams for extra reinforcement
High-quality premium cow
Click to Buy now from Yokkao !!
This is my review of Yokkao brand "SICK" collection Muay Thai gloves. I picked these up this past July while in Bangkok. I stopped by the Yokkao Training Center in Bangkok and they hooked me up with my training gear for the trip. A set of the "SICK" collection gloves was the gloves that I would use for my whole 6 weeks in Thailand. These gloves retail for 90.00 USD plus shipping. Always make sure you check out the site directly they have great deals going on all the time. So let's get into it!
* The fit of these gloves is perfect, same with all of the gloves I have from Yokkao super comfortable and formed perfectly for your hands. I have worn them without wraps just for some light work and they still fit very well. Once you wrap up they are just an extension of your hands.
* Along the same lines again with all the gloves the wrist support is top of the line, super stiff and heavy duty hook and loop locking.
* I love the loud vibrant colors these come in, The pair I have is yellow/violet they are also available in orange/pink and blue/green
* The quality control is top notch . not one stitch is out of place the foam is firm and the leather is perfect. The colors are vibrant.
* After using these gloves in Thailand for 6 weeks of training the color is still flawless there are no defects in the stitches or any of the leather. They still look new.
* Yokkao always has great deals and discounts on their gloves!
* To be totally honest I do not have anything I would change or want different in a glove. Until I use a glove that I feel is better, these gloves are the best I have used to date.
In conclusion, Yokkao has set the highest standards as far as I am concerned. I have not used a glove yet with the level of craftsmanship and comfort as these. I would suggest anyone from beginner to pro fighters to have at least one pair of Yokkao gloves and if you like flashy things the "SICK" collection is the way to go. They offer matching shorts and shin guards in all 3 colorways. Check them out at this link! Yokkao SICK collection . Also, a video review is available on my YouTube channel , "Yokkao Sick" Review video.


*this product was provided to me free of charge from Yokkao training center in Bangkok, to do test and review for www.fightchase.com